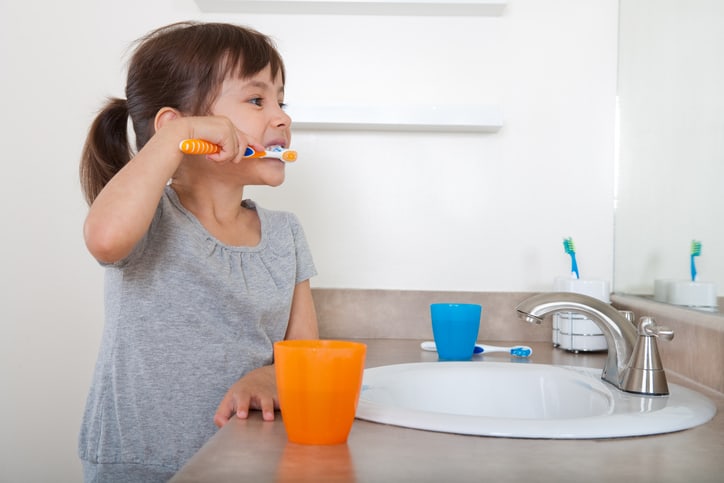 Getting your kids to brush their teeth is a struggle. If you have kids, you know how hard it is to make sure your little ones spend the recommended 2 minutes brushing their teeth. Luckily enough, there are a couple of ways to make the twice daily chore more fun and enticing to kids! Here are a couple of ways to help them develop good brushing habits.
Chompers
Gimlet Media has created a show that focuses solely on keeping your child entertained while they are brushing their teeth. Chompers is a podcast that tells jokes, riddles, stories, fun facts, silly songs and more. It will keep them giggling - and brushing - for the full dentist recommend two minutes. It also keeps track of streaks and will help everyone in your family develop good brushing habits! Chompers is available via Apple Podcasts, Spotify, Stitcher, or any major podcast app. You can also tell Alexa to "Play Chompers"!
Get Everyone Involved
Kids often want to mimic what their parents are doing, so developing a schedule so the whole family can brush together is ideal! As an example, if their bedtime is 8pm, at 7:30pm everyone grabs their brush. This also allows you to watch your kids as they brush their teeth to see if they need help focusing on certain areas.
Invest In A Good Brush
There are tons of toothbrushes out there that are geared towards kids. Most of them have bright colors, characters, funky shapes or big handles. The one thing that may make the difference are the gimmicks. Some electric toothbrushes will play music or stop brushing after the 2 minute time has elapsed. It may take some trial and error to find the right one for your child, but it will be worth it in the long run!