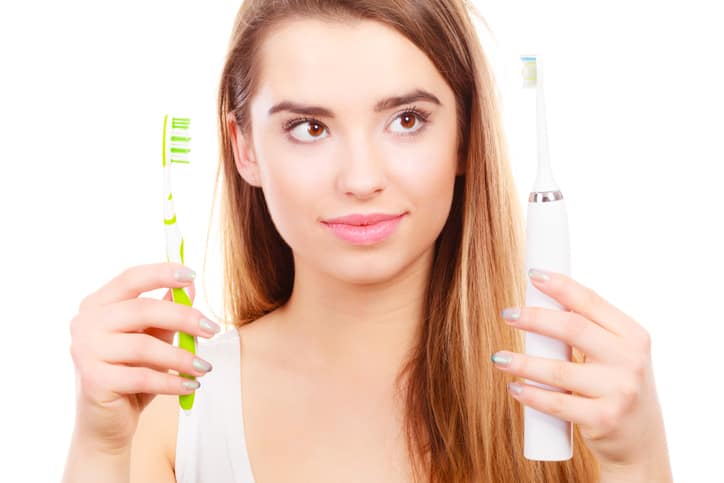 You see the other toothbrushes in the grocery aisle and check their price tags. Are there really enough reasons to shell out an extra $40-160 on these battery powered items? How do you know what features are useful? Many people tell us that once they start using an electric brush they never want to go back to using the manual kind again.
Your typical selection in big box stores and drug stores are wide enough, and going online shows you that there are many selections and can range above 200 in some cases. What are the differences? One brand touts "newly-released ISSA 2 uses a pulsing silicone brush that the company claims is 35 times more hygienic than standard bristles!" Another claims it uses "a pressure sensor that lets you know when you're brushing too hard, and an in-handle timer pulses every 30 seconds to signal that it's time to move to a different part of your mouth!"
What ARE the advantages of using an electric toothbrush versus the multipack of colored brushes you were about to pick up?
Proper brushing is critical to fight things like gum disease, bad breath, and stains. If you value your teeth, having assistance getting the right level of brushing with an electric brush can be a game changer for your children that may not understand why they need to be so diligent in technique. The electric toothbrush motion scrubs every inch of your teeth and many of them have built in timers to make proper brushing habits that much easier to adopt.
Electric toothbrush benefits include keeping your teeth white, cutting down on plaque, gentler cleaning action, longer brushing times due to the ease of use, and reaching parts of your teeth other brushes might miss.
And in the long run, proper use of an effective electric toothbrush can saves a lot of costs in dental procedures required later in life!