By admin2014
Comments Off

on What is Digital Smile Design (DSD)?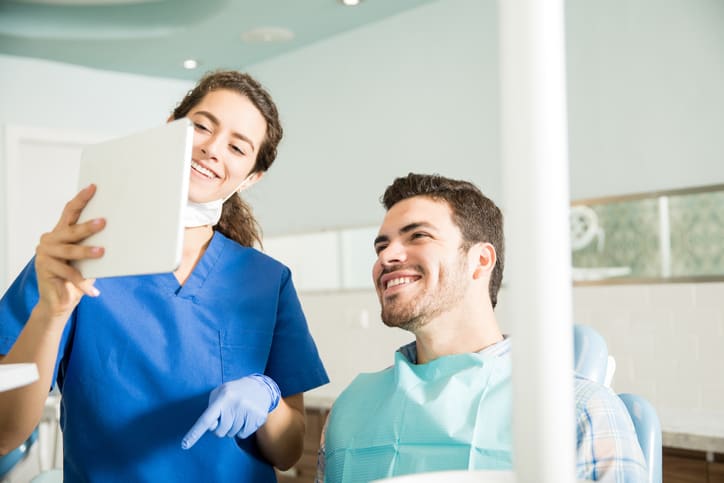 Digital Smile Design (DSD) is a unique and exciting new planning tool that allows a dental provider to digitally plan, manipulate, and share a plan for a patient's future smile. Using videos, photographs, and digital mock-ups, dentists and orthodontists create a treatment plan is based on a thorough analysis of the patient's dental and facial proportions, and immediately provide feedback to the patient.
It all starts with three-dimensional photos and videos of every angle of a patient's mouth. This digital scan is done with an intraoral scanner, and the data is imported into the DSD software. During the scan, technicians can watch each image on the screen in real time. This ensures the right images are being captured at the angles needed. This greatly reduces the need for a patient to come back for additional imaging after the consultation.
After the data is imported into the software, dental providers can work to create a physical model with a dental lab. The images and videos help the lab create a more realistic model, which can include patient facial aesthetics and other important physical aspects. It truly offers a custom designed smile that expresses the patient's character.
Facially guided smile design approaches take into account and evaluate the facial and dental mid-line (which are not always at the same place), tooth and lip relationships at rest and smiling, smile curve, tooth shape, and position, and other factors to give patients a smile that fits their face and character.
The most exciting part is that patients have the opportunity to approve a three-dimensional model and mock-up images of what their smile will look like after the treatment is complete. Providers may even be able to place portions of the model in a patient's mouth temporarily to give them a better idea of what their future teeth will look like as they speak and smile.
Once approved, providers begin the restoration process. Any fragments or damaged teeth are removed, and restored teeth are placed as implants or veneers. Finally, the process is finished with a polishing treatment that will help the teeth look shiny and clean.